Pneumatic hand rehabilitation device to prevent finger joint contracture after stroke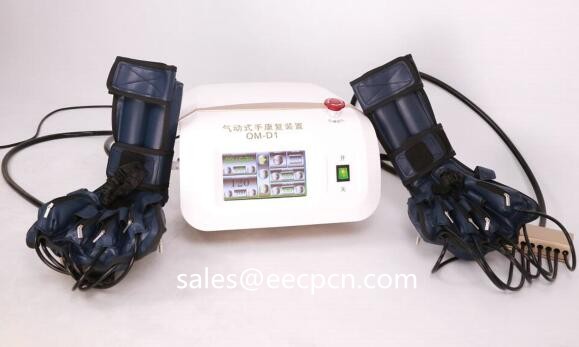 Feature:
Smart color LCD touch screen,easy to operate
Adjustable pressure and inflate and deflate time
Two channel design,each channel stand alone operation.
High-end unique glove design,comfortable and easy to wear.
Unique patented software technology design,technology-leading factory
Product Principle and function:
Through a specific air pressure,fingers and wrists will be driven to do draft training in the range of physiological activities,which can effectively reduce the muscle spasm of fingers and wrists.Provide effective functional training for hand rehabilitation.
Application:
Suitable for hand dysfunction caused by central and peripheral nerve injury,central diseases,stroke,high paraplegia,brain trauma.Also can be used for hand post-surgery funtional rehabilitation training.
Applicable departments:
Rehabilitation department,Neurology department,Neurosurgery department,hand surgery department.ICU,etc.